About
From Crisis to Care. Help animals rescued from natural disasters, cruelty & neglect, domestic violence victims seeking safety with pets, dogs & cats with life threatening illnesses. Our innovative solutions include emergency shelter & financial support.


Real Life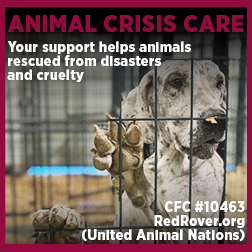 In August 2017, the catastrophic storm Hurricane Harvey hit the Middle Texas coast, destroying homes and tearing families apart. RedRover Responders partnered with the SPCA of Texas to care for about 147 pets of evacuees who fled the impacted areas.
Lil Bit and his dad, Darrell, were still in their home when the flood waters engulfed Beaumont, Texas. The flood waters went from ankle deep to neck deep in 45 minutes. Lil Bit was terrified of water, so Darrell got a garbage bag and made a hole in the bag so Lil Bit's head could stick out. Then they waited to be rescued.
When a disaster hits, pets need a shelter from the storm where their families can find them and know they're safe. These animals need food, water and medical care while their families mend their lives. Because of supporters like you, RedRover was able to provide the Harvey-impacted communities with temporary sheltering and disaster care for pets like Lil Bit.
While visiting Lil Bit at our temporary emergency shelter, Darrell expressed his gratitude for the people who rescued him and for the people who cared for Lil Bit like he was their own. "I don't know what I would do without Lil Bit because I've had him since he was a puppy," Darrell said. "He's part of my family."
Thanks to the generosity of people like you, our RedRover Responders volunteers cared for Lil Bit and many more beloved pets who were displaced by Hurricane Harvey. Your support of RedRover saves lives. Please select RedRover for your Combined Federal Campaign donations for 2019.