About
Supporting veterans/active duty service members of the Army, Navy, Air Force, Marine Corps, Coast Guard and Special Forces. Our partners provide treatment, rehabilitation, PTSD relief, physical/spiritual care, adaptive sports, housing for homeless, & more.
Web Site www.mfvsoa.org
Email info@mfvsoa.org
Success Story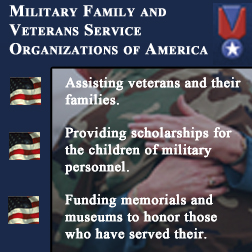 Military Family and Veterans Service Organizations of America is a federation of non-profit charities helping to keep America strong, safe, and free. Our member charities serve veterans, including disabled and paralyzed veterans, providing housing assistance, job placement services and counseling. MFVSOA members provide scholarships for the children of veterans and service members. Our membership keep military history and traditions alive, and they build and maintain the museums and memorials to honor our country's soldiers living and dead.