About
Autism occurs in 1:36 births in the U.S.! We help autistic persons and their families by providing research-based answers to autism's daily challenges like making friends, navigating school and the job market, and keeping autistic kids safe and thriving.
Web Site www.researchautism.org
Email info@researchautism.org
Success Story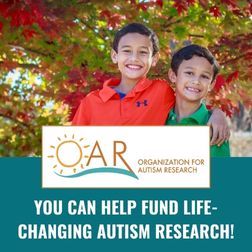 As a parent of a child diagnosed with autism you often times feel helpless in how to help your child. As a fundraiser for the RUN FOR AUTISM team I feel empowered to help my son. Not only does the Organization for Autism Research (OAR) given me a new sense of achievement with every race run, they also share this information with many families. Their guidebooks, published reports and website all provides practical information the helps our children grow and succeed as they move through life.

We are especially grateful as a military family since they have gathered information in one place that is often confusing to a newly diagnosed family. And finally OAR provides connections to other families. Through RUN FOR AUTISM I have met many other parents who I regularly communicate with. Together we share the struggles and triumphs that our kids go through every day.