About
Our mission is to promote dominant U.S. Air & Space Forces as the foundation of a strong National Defense; to honor and support our Airmen, Guardians, and their Families; and to remember and respect our enduring Heritage.
Web Site www.afa.org
Email development@afa.org
Success Story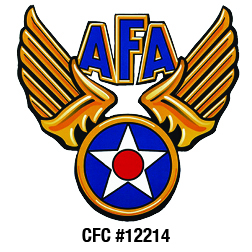 "Dear AFA,
I just wanted to write a few lines about how your Spouse Scholarship has enhanced my life. I was able to use the money for tuition and books. It has also given me a sense of self-accomplishment just winning the scholarship. My wife is the one in the military and this makes us very prideful to be a part of something that takes care of the entire family and encourages people to excel. Thank you so much for this special gift to our family.
Sincerely,
David Serbin"
The Air Force Association EDUCATES the public about the critical role of aerospace power in the defense of our nation, ADVOCATES aerospace power and a strong national defense; and SUPPORTS the Unites States Air Force, Air Force family, and aerospace education.
The Air Force Association provides:
Grassroots Membership
Research and Education efforts on AirPower
STEM Education reaching over 200,000 children annually
Professional development conferences and symposiums
Scholarships and Grants valued at more than $1.5 million annually
Advocacy for issues on Capitol Hill