About
Guide dogs for the blind - PTSD Service dogs for soldiers and veterans - Emotional Support dogs for children w/ autism. We provide specially bred and trained assistance canines to people in need, free of charge.
Web Site israelguidedog.org
Email info@israelguidedog.org
Success Story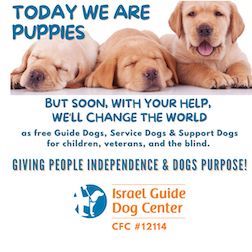 In 1982, Uri, a soldier in Israel's First Lebanon War, was blinded by shell fragments. To maintain his freedom to follow whatever life path he chose, he immediately requested a Guide Dog, a major undertaking in the 80's since there were no guide dog schools in Israel. Within months, he was on his way to the US for intensive training. The travel was grueling, the language, unfamiliar and the adjustment and follow-up, difficult. But Uri persevered.Life with a guide dog was great - he was independent again! The problem is that a guide dog needs to be replaced every 8 years, so the trips to America continued until…the Israel Guide Dog Center for the Blind began offering these services.
"It's great to get a dog that understands Hebrew and is familiar with the unique environment in Israel. It's not only the heat, but cultural differences as well."
Uri earned his Bachelor's degree in Clinical Social Work from Tel Aviv University and his Masters in treating addictions. Today, Uri counsels private patients and groups.
His latest dog, a Labrador named Polly, was raised and trained at the Israel Guide Dog Center for the Blind. She guides him through his busy life and sits in on his sessions. Uri explains that his dog is very sensitive. "Sometimes, clients get emotional telling their stories, and she will get up on her own and put her head on their laps to comfort them."
As for ambitions for the future: "Another trip to India (Another???)", Uri smiles: "and, to tell you the truth, I have always wanted to be a truck driver." Knowing him, it's only a matter of time before he has the trainers at the Guide Dog Center taking Polly for driving lessons.