About
There's a smart way to end the water crisis and break the cycle of poverty. We empower people in need with access to small, affordable loans for household water and sanitation solutions - unlocking education, economic potential and improved health.
Web Site water.org
Email info@water.org
Success Story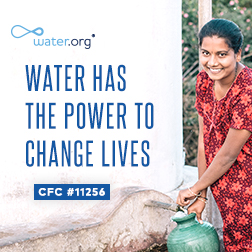 Namulondo is a hardworking health assistant at a local hospital in Uganda and a loving single mom who has dedicated her life to caring for the lives of her children. Critical to all of her roles is safe water, and until recently, she did not have access to water at home.
Without access to safe water, it was difficult for Namulondo to effectively manage her home, and almost impossible for her to care for her children - especially her handicapped son. She struggled daily to retrieve enough water to bathe him and launder his bedding before leaving for work. Her other children helped with this task, but she often preferred to collect water herself so they could make it to school on time.
More than half of the population of Uganda lack access to safe water at home. Burdened by the water crisis for far too long, Namulondo decided it was time to end it for her family. Thanks to our smart solution, Namulondo was empowered to do this.
We plugged into the existing financial system in Uganda, partnering with local institutions to add water and sanitation loans to their portfolios. Through our partner, Post Bank Uganda, Namulondo was able to take out a small loan to pay for a rain storage tank. This tank provides her family with enough water for several months. With each rainy season, her tank is refilled, and health and hope flow.
Burdened by the water crisis no more, Namulondo can care for her family well. With your support, we can empower more hardworking moms like Namulondo with the financial solution needed to remove the obstacle standing between their families and a healthy, hopeful life.