About
Supporting veterans,we offer physical/psychological rehabilitation programs; enhance mobility for veterans with amputations/spinal cord injuries; support aging veterans; aid/shelter homeless veterans;and address the needs of veterans returning from combat.
Web Site cst.dav.org
Email cst@dav.org
Success Story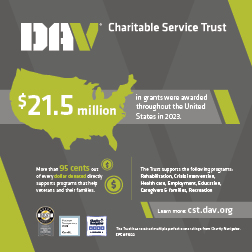 The Charitable Service Trust is exhaustive in its efforts to find ways to support programs that lead to victories for veterans' mental health.
The Healing Our Heroes program from the Music Conservatory of Westchester in White Plains, New York, is one such program that enriches the lives of injured and ill veterans. Healing Our Heroes was established in 2013.
Veterans are invited to be part of free weekly individual or group music sessions for two years through the conservatory's community service program. In December 2021, Ricardo Singleton, an Army veteran who served in Afghanistan, sang in the studio parts for the conservatory's "The Little Drummer Boy." Other veterans played instruments, including clarinet, for the show. All programming is done under the watchful ear, and eye, of a music therapist with a minimum of a master's degree in the field. Through the program, veterans write songs, play instruments and sing.
M.C., a former Army helicopter pilot who spent multiple tours in Iraq, credits Healing Our Heroes for helping him achieve greater peace of mind. M.C. partnered and performed with a professional guitar player during his weekly visits.
The Trust continues to focus on supporting mental health programs so veterans can live the lives they have earned through service on their own terms.