About
Support research into the causes of Alzheimer's disease, improve the care of those living with it, and ultimately discover a cure. By donating to a highly rated non-profit you have the power to change the lives of more than 6.5 million Americans.
Web Site www.ALZinfo.org
Email info@alzinfo.org
Success Story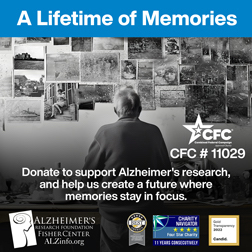 My name is Mary, and I am 62 years old. A year ago I went to my family doctor complaining that my brain wasn't working right. I underwent cognitive testing and a CAT scan which showed abnormal shrinkage of the frontal lobe. I was diagnosed with early onset Alzheimer's - such a terrifying thing to hear. When we look back we can see some of the symptoms as long ago as five years. I had even had to take early retirement from my secretarial job because I was getting too confused at work.
Alzheimer's is a terribly lonely disease, only those who are also on this path really understand what we are going through. I am deeply grateful to the Fisher Center Foundation for the work they do in the battle against Alzheimer's and especially thank them for providing us with our chat room. We can discuss our daily problems and frustrations as this disease takes over our lives and get suggestions - about medicines and side effects, share remedies and helpful hints - from others who are going through the same things. Caregivers chat with those of us with dementia to better understand what their loved ones are going through. Chatting daily with others helps me keep my brain active. The Fisher Center provides us with a place to meet where we are accepted as we are. We know the cure for Alzheimer's is just down the road, and we are hanging on very tightly waiting for the big day.