About
We protect and defend the rights of children and youth through effective, vigorous and compassionate legal advocacy.
Web Site www.ebclo.org
Success Story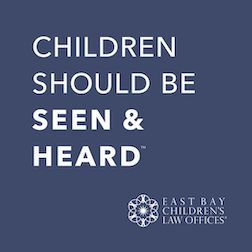 Keeping kids connected to their siblings has always been a top priority for EBCLO. When we were victorious in having four siblings placed with their adult sister herself, it was a day to celebrate! And it was no easy feat. Barely in her 30s, the kids' older sister Kaia acted quickly to file paperwork to become the children's guardian when their grandmother, who had been caring for them, passed away suddenly and other family members had ideas about splitting the kids up. EBCLO was appointed to represent the children immediately, but the legal system was not nearly as nimble as Kaia. It took no fewer than 45 court hearings, 10 witnesses, two different judges and a writ to the appellate court to ensure that these four children would stay togetehr and be raised by their older sister. Kaia looks back on it like it wsa all in a day's work, but we know it was a hard fought victory for everyone involved. And we are happy to report that the kids are doing great!