About
Most victims of sexual assault, rape and domestic violence do not report. Many tell no one. Who will believe them? Who will help? EVAWI is a catalyst for justice and healing, so EVERY survivor gets the right response and the support they deserve.
Web Site www.evawintl.org
Email cfc@evawintl.org
Success Story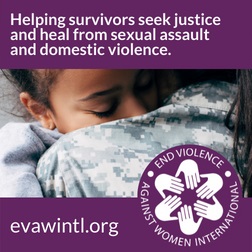 Chelsea's Story
"I believe you, and I will stand with you." These words changed everything.
When Chelsea reported being sexually assaulted by a classmate, every system failed. Campus police told her everyone would think it was her fault and she would lose friends if she didn't drop her complaint. At the hospital, she waited for hours for a medical forensic exam. When the nurse finally arrived, she told Chelsea if she DIDN'T press charges, her exam was just a waste of time and resources.
Determined to fight for herself and hold her assailant accountable, Chelsea pressed forward. But when her case was referred to the prosecutor's office, no one ever returned her calls. Chelsea says, "I asked myself every day why I had ever reported the rape in the first place."
Then one day, she got a call. She picked up the phone, and the voice on the other end said, "Chelsea? I'm Dwight Rudd, your new prosecutor. I want you to know I believe you, and I will stand with you." That was the moment that changed everything for Chelsea.
With your pledge to the CFC, you can make sure every survivor has someone like Dwight Rudd in their corner. Your CFC pledge ensures survivors aren't alone in their fight for justice.
When you select EVAWI on your CFC pledge, law enforcement officers and prosecutors get the training to effectively investigate and prosecute sexual assault. They learn the skills to support survivors, so EVERY survivor hears, "I believe you, and I will stand with you."
Please, give through the CFC and help survivors like Chelsea today.