About
Sexual and reproductive health is more than a hope―it's a human right. That's why PAI and our 120+ global partners work to expand access to safe abortion, contraception and quality reproductive health care for women, young people and at-risk communities.
Web Site www.pai.org
Email donations@pai.org
Success Story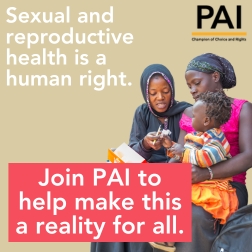 Did you know that globally 218 million women want to avoid pregnancy but are not using modern contraception, including 14 million adolescents?
As a volunteer with Youth Response for Social Change (YRSC) in Malawi, Amanda Brenda Sauta knows firsthand the challenges young people face when trying to access sexual and reproductive health information and care.
"If you go to the service centers, they give you these certain looks, these looks of disapproval or these looks of judgment to say, 'You're so young. Why are you in here accessing these sexual and reproductive health methods?'"
Stigma isn't the only barrier limiting young people's choices. Government-run health facilities are frequently out of family planning and reproductive supplies, contributing to high rates of teenage pregnancies and sexually transmitted infections.
YRSC saw the opportunity to harness the power of young people as advocates and collaborated with PAI to enhance its approach. PAI's strategic guidance and flexible funding helped the organization develop clear advocacy actions and train a cohort of youth advocates. Their efforts paid off: The Machinga District Health Office agreed to a 10% increase in funding for adolescent and youth family planning.
As the United States moves backward on reproductive rights, PAI is on the front lines to ensure that U.S. policy and funding support the health, bodily autonomy and well-being of women and young people around the world. We also partner with champions like YRSC who are fighting for health and rights in their countries.
With your support, we won't stop fighting until sexual and reproductive health and rights are a reality for all.