About
Reproductive rights are under attack and abortion providers continue to face threats and violence. The National Abortion Federation (NAF) supports abortion providers and helps keep clinics open so patients can obtain safe, high-quality abortion care.
Web Site www.prochoice.org
Email naf@prochoice.org
Success Story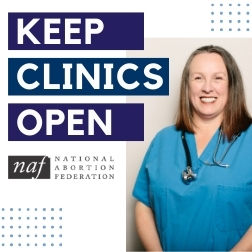 Perpetrators of clinic violence have stopped at nothing to prevent patients from accessing abortion care. NAF has been compiling statistics on violence against abortion providers for more than 30 years, and in that time, there have been 8 murders, 17 attempted murders, 41 bombings, and 175 arsons.

Many of our members encounter constant threats and harassment not only at their clinics, but at their homes as well. They have to take extraordinary security precautions and some even wear bulletproof vests to work. Still, they remain committed to providing women with the abortion care they need because they know how important this care is in protecting women's lives and health.

NAF offers many types of support and assistance to abortion providers to ensure that they are able to offer the highest quality care and meet the unique challenges they face every day. We provide our members with security trainings, risk assesments, and emergency onsite assistance when they are targeted for violence. NAF also sets the standards for quality abortion care and provide training and technical assistance to help providers offer the highest-quality abortion care.

We also provide patients with unbiased, accurate information about their pregnancy options, including referrals to providers of quality abortion care, and limited financial assistance through our toll-free Hotline (1-800-772-9100).
You can help us protect the heroic providers who make reproductive choice a reality. Together we can keep providers safe and clinics open to care for patients.