About
Freedom 4/24 (Away with Human Trafficking and Sex Slavery) exists to prevent and end sexual exploitation and trafficking both locally and globally. We raise awareness, provide prevention education to those most vulnerable to trafficking, and expand the restoration work of our partners.
Web Site www.freedom424.org
Email info@freedom424.org
Success Story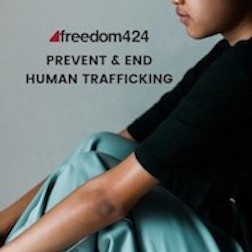 Nan's Story
"I am from Samut Sakhorn, southwest of Bangkok. I have one younger brother. Life was hard for us after my father left us. I needed to work to help the family. A friend of mine introduced me to Beginnings; at the time I was working on Soi 7 (a red light district street). My friend said they have opportunities here to receive an education and no longer have to work in the bars. I thought it was too good to be true. But it turned out to be a dream come true.
I love to cook and bake. Right now, I am a culinary student in Bangkok. Now, Beginnings is giving me the chance at the new safe home in Pattaya to teach other women who were once like me how to cook and bake to they can have a trade and leave the bars. The people at Beginnings are my family, and I want to give back to it and to other women in every way I can."