About
Family homelessness is an invisible crisis in America. Family Promise helps families in need rebuild their lives and achieve lasting independence by offering shelter, prevention, and stabilization services. We give children the future every child deserves.
Web Site www.familypromise.org
Email in@familypromise.org
Success Story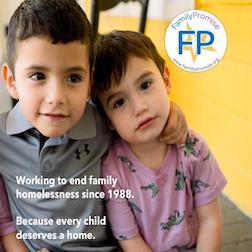 When 8-year-old Tim's parents divorced, he moved with his mother from the only home he'd known. Unsure about the future, the most important thing was that he and his mother Elaine were together.
But when Elaine's job of 25 years was eliminated, she struggled to find work. There was more uncertainty - where would the next paycheck come from and how would bills be paid? With no job prospects in sight, they were on the verge of homelessness.
Thanks to Family Promise, their worries were shortlived. Family Promise helped Elaine find employment and housing. But just as important, they helped Tim adjust to the family's new circumstances. They reached out to Tim's new school to smooth the transition on his first day and arranged for a buddy to walk with him to ease his nerves. Tim, a bright student, continued to make honor roll.
"I'd imagined homeless shelters as intimidating places with beds and nothing more," Elaine says. "Family Promise wasn't just a shelter. They had everything we could possibly need to get our life back together – help with jobs, housing, tutoring. I never imagined we'd be in this situation, but Family Promise shattered my stereotype of how homelessness is treated."
The family is still involved with Family Promise, now as volunteers, and Tim is thriving at home and in school.
"We learned anyone could become homeless," says Elaine. "If it weren't for Family Promise, I don't know where we'd be right now."