About
Vegan Outreach seeks a future where animals are no longer killed for food. Through our 10 Weeks to Vegan and Get Healthy guided challenges, we provide free support to people in over 50 countries, helping them make more compassionate food choices.
Web Site www.VeganOutreach.org
Email info@veganoutreach.org
Success Story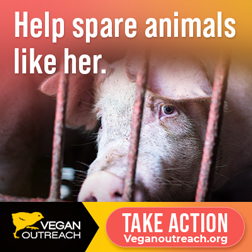 A small sampling of the feedback we have received:

"Thank you for your outreach program. I had been wanting to become a vegetarian for several years. Your pamphlet, which I picked up at Union Square, NYC, made it clear to me that NOW is the time. It's been two weeks now and I'm not going back!"
10 Weeks to Vegan: "It's been a great experience, in which not only respect was worked on, but I also learned to eat better, with simplicity, flavor, new knowledge, habits acquired day by day. I learned that it's possible. I really enjoyed."

"Everyone who has read [Why Vegan] has given me feedback on the quality of it and a few have even become vegetarian! Even my teachers were astounded. Up until now, I was the only vegetarian at my high school, so thank you."
"10 Weeks to vegan, has become my #1 support! Love trying many of the recipes shared here!"

"It's hard to imagine another organization that does as much good as you do."
"I recomend 10 Weeks to Vegan all the time because it helped me as a guide when I started. There's a lot of information on internet, but you don't know if it's real or not. Semanario Vegano has information from real registered dietitian."

"The number and variety of horrible abuses perpetuated against animals in this society is mind-boggling, but to remedy them, the bottom line is not to base one's entire lifestyle and subsistence on their slaughter - in short, stop using animals for food, clothing, entertainment, etc. Your booklet gets this message across very well!"