About
Grant the power of a wish! Together, we create life-changing wishes for children with critical illnesses. Now, more than ever, hope is essential. One wish gives strength and the power of hope to children and their families for brighter days ahead.
Web Site www.worldwish.org
Success Story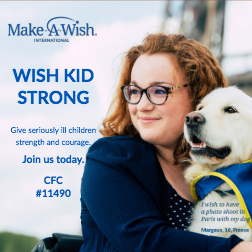 Make-A-Wish creates life-changing wishes for children with critical illnesses. We seek to bring every eligible child's wish to life because a wish is an integral part of a child's treatment journey. Research shows children who have wishes granted can build the physical and emotional strength they need to fight their illnesses.
Headquarters in Phoenix, Arizona, Make-A-Wish is the world's leading children's wish-granting organization, serving children in more than 50 countries worldwide.
Every day, hundreds of children worldwide are diagnosed with a critical illness. That's hundreds of children and their families who will spend too much time talking to doctors instead of friends; and too much time in hospitals rather than on playgrounds. But because of you, those children and families will experience resilience and renewal through a wish-come-true.
A wish-come-true helps children feel stronger, more energetic, more willing and able to battle their critical illness. For many, the wish marks a turning point in the fight against their illnesses. Here are a few examples of wishes we have recently granted in the countries we serve:
* I wish to fly far, far away from the hospital...to the moon | Dwayne, 4, Australia
* I wish to have a staycation in Sentosa | Nayumie, 7, Singapore
* I wish to have a photo shoot in Paris with my dog| Margaux,16, France
"when you are fighting for your child's life, hope is truly the most powerful medicine."--Kenrick, wish dad