About
Become a Wishmaker! Help grant wishes for children age 3-18 battling critical illnesses around the world. Provide joyful, magical experiences for children & their families when they need it most. Help transform sadness into joy, worries into happiness.
Web Site www.worldwish.org
Success Story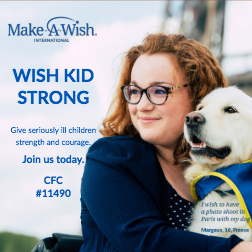 Xinyi's whole world was changed the moment she was diagnosed with neuroblastoma. Where once the days were filled with play and imagination, now they were made up of doctor appointments and hospital visits. Following her diagnosis, Xinyi found joy in playing with dolls. It helped her escape into a world without illness.
When Xinyi was told her one-true-wish would be granted, she knew just what it would be: to live in a world with her favorite dolls. Her eyes glowed when she learned her wish would be realized.
Due to Xinyi's physical condition, she could not leave the hospital, so the wish experience was created in the children's activity room at the hospital. This helped Xinyi to be much more cooperative with her doctors during her medical treatment. Each time her wish granters would visit her, Xinyi's anticipation for her wish grew. Now, instead of each day meaning another round of tests and treatments, they brought her closer to her wish!
One day, the wish granters visited Xinyi - but this was no normal visit. They gave Xinyi a wish coin and brought her to the door of the familiar children's activity room. Despite having been in the room 100 times, when the door opened on this day, it had been transformed into a magical wonderland of dolls for Xinyi!
There were dolls everywhere: sitting on a huge cake, cooking in the kitchen, standing in front of the closet with many, many beautiful dresses. Xinyi was overjoyed and spent the entire day living in a world of her favorite dolls. "I can say this is her happiest day so far. I hope she will be as happy as she is today and live with a positive and optimistic attitude," said Xinyi's mother.