About
Sisters Network is committed to saving Black women's lives through breast cancer awareness, outreach programs and early detection. We provide support, financial assistance, promote early detection with free mammography and ultrasound screenings.
Web Site www.sistersnetworkinc.org
Success Story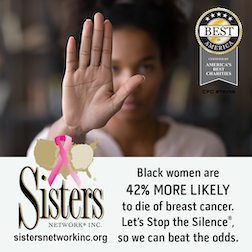 Sisters Network® Inc. National Breast Cancer Assistance Program (BCAP) was established in 2006 to provide financial help to Breast Cancer Survivors.
To date, Sisters Network Inc. has provided nearly $1 million dollars in financial assistance to breast cancer survivors and paid for mammograms/ultrasounds for women nationwide.