About
Free & confidential mental health care to military personnel, veterans & families. We provide counseling, emotional wellness workshops, & peer support so that service members receive the care they need to continue being resilient members of the community.
Web Site www.giveanhour.org
Email info@giveanhour.org
Success Story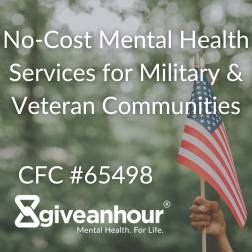 "Thank you so much for being Give An Hour provider. It is such a blessing for so many of our Service Members." That is how I end my telephone inquiries when I reach out to verify if providers are taking new clients. And it is True!
Many people assume that any soldier can just go to the VA to get Behavioral Health Care, but many of our currently serving soldiers do not qualify. And many of those same soldiers do not have insurance. GAH provides those soldiers a real option to get the help they need close to home without worrying about additional financial burdens. It is often a real beacon of light and hope to soldiers who didn't think they would be able to get any help.
One soldier in particular was doing fairly well managing his depressive symptoms, until COVID 19. He was isolated and many of the tools he had used prior to improve his mood were no longer available or working. He did not want to burden his family or friends, but he really needed to talk with someone. I called several GAH providers in his area, and was greeted by one particular provider who said he would be proud to work with this young soldier. The introductions were made, and the soldier had his first "appointment" that same week. What a difference it made! When I spoke with the soldier later that month- he was a new person. He still had issues to deal with, but he had hope, and he felt he had the support he needed to learn, practice skills, and grow. He could believe in a future again.
I am so thankful that GAH exists and fills the gap for so many service members and their families. It is life changing, and lifesaving!