About
Cures for childhood brain tumors are desperately needed. We fund basic science and clinical research that will save lives and are dedicated to heightening awareness of this devastating disease while improving the quality of life for those it affects.


Real Life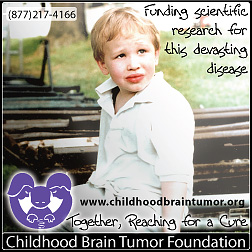 Brain tumors are the most common solid tumor of childhood; and the second most common childhood cancer. Brain tumors are the leading cause of death from childhood cancer and have the highest fatality rate.
In first grade, Evan sat in the front row -- he couldn't see the board clearly. The doctor said he didn't need glasses and thought he was trying to get out of going to school. His headaches were getting more frequent and the sudden; the sharp pains in his head were keeping him awake. Months later, after an MRI scan, Evan was diagnosed with an inoperable midbrain tumor.
Sydney had just graduated high school. She had been tired for weeks and didn't know why. One night she fell to the floor in the kitchen, when her friend rushed in to see if she was OK, Sydney was having a seizure. Once stabilized, she went to her local hospital and a large tumor was found in her frontal lobe, it was malignant.
Melissa, now 10-years-old in special education, was diagnosed with medulloblastoma as an infant. She underwent surgery, chemotherapy, and radiation. Melissa uses hearing aids, gets growth hormones, and requires help with many school subjects. Her short-term memory and linear growth have been damaged.
All of these kids and their families have had their worlds turned upside down. The financial and emotional strains that a pediatric brain tumor diagnosis causes are incomprehensible. Funding for research and support are desperately needed and you can help.