About
We ensure children from Ukraine & 64 other countries suffering from heart defects, near death & barely able to breathe, get a second chance at life. Mending hearts and saving lives through cardiac care for kids with congenital & rheumatic heart disease.
Web Site www.saveachildsheart.org
Success Story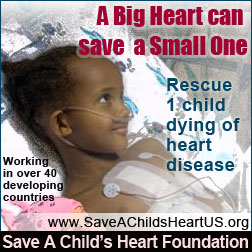 A Little Girl Called Fatma
Fatma, a one-year old toddler from Masingini, Zanzibar became the 5,000th child treated by Save a Child's Heart (SACH). When she was just a few months old, she started to experience a severe fever and cough. These symptoms worried her mother, Balkis, a former SACH patient who, 20 years ago, received lifesaving heart surgery herself, at Wolfson Medical Center in Israel.
Constantly in and out of hospitals, Fatma was getting sicker each day. Her alarmed mother brought her to an annual SACH clinic in Zanzibar, where Fatma was diagnosed with a patent ductus arteriosus (PDA), a persistent opening between the two major blood vessels leading from the heart. The opening, called the ductus arteriosus, is a normal part of a baby's circulatory system before birth that usually closes shortly after birth. Her mother, Balkis, had been treated for the same condition in Israel, through Save a Child's Heart, 20 years ago.
Fatma was flown to Israel and admitted to Wolfson Medical Center through SACH, for evaluation and repair of her heart defects. She successfully underwent life-saving heart surgery in Israel.
"I owe my own life to this incredible NGO, and now they saved my baby", said Fatma's mother. "I owe them my happiness."
Fatma and Balkis returned home healthy and happy. ‍SACH will continue to monitor them during our medical missions to Zanzibar. Fatma is now a happy active little girl. Running around, dancing and singing songs with words she is making up