About
Transforming the lives of more than 27,000 children and young adults with disorders and injuries of the brain, spinal cord, and musculoskeletal system through groundbreaking research, interdisciplinary care and treatment, and education each year.
Web Site www.kennedykrieger.org/Foundation
Success Story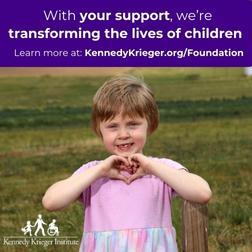 At Kennedy Krieger Institute, we never give up. With your help, we give young people with conditions like autism, spinal cord injuries, rare genetic diseases and many others the individualized expert care they deserve every single day.
Let me tell you about Mati and how his family learned firsthand just how exceptional the Institute— and those who work there—are when he started physical therapy there for a spinal cord injury while he was staying at our inpatient rehabilitation hospital.
Mati, 3, was diagnosed with neuroblastoma, a rare pediatric cancer, when he was only 8 months old. At that time, Mati's tumor was the size of a baseball. It was growing in his abdomen, pressing on his spinal cord and causing paralysis from his shoulders down.
Mati had emergency surgery to remove part of the tumor, then underwent two rounds of chemotherapy to shrink what was left. But the paralysis remained until he received inpatient physical therapy at the Institute.
After three weeks of intensive therapy, Mati had regained much of the movement he'd lost, including in his thighs, quadriceps and calves. But it wasn't everything, and at Kennedy Krieger, we pursue all that's possible. Mati still comes to us two to three times a week at the center's location in Maple Lawn, Maryland, to continue gaining mobility.
"There are no words to express how grateful we are to the spinal cord injury team at Kennedy Krieger," says his mom, Rachel. "…it's so special to know that Mati's team is celebrating all his progress right alongside us."
By choosing Kennedy Krieger as your charity, you are changing the life of the next person who comes to the Institute because, with us, they pursue all that's possible.