About
Restoring sight is one of the most effective ways to relieve suffering & reduce poverty. We deliver vital eye care to the world's most vulnerable including women, children and indigenous peoples. Transforming lives by Restoring sight!
Web Site www.seva.org
Email give@seva.org
Success Story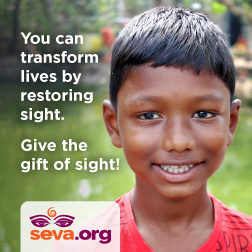 Your Support Can Help People Like The Malik Family
The Malik family, from West Bengal, knows this firsthand. Four generations of one family were born with congenital cataracts. Work, school, and everyday life for the entire family was shrouded in a blur.
Sarama, 62, was born with congenital cataracts-a genetic condition. Like her mother and siblings, she could barely see. She's had a series of accidents; once, while walking in the field, she held up a snake thinking it was a dried coconut leaf. Sarama's two sons and two grandsons also lived with cataracts.
But Seva Foundation's motivation to create change helped lift Sarama and her family from darkness.
Through our partner in the region, Sarama, her sons, and grandsons were all provided with sight-restoring cataract surgery. Practically overnight, each of their lives changed. "I can see so clearly! I can even see tiny insects now for the first time in my life!" exclaimed Sarama. "I cannot express how happy I am!"