About
Research is the best hope against all types of cancer - breast cancer, pediatric cancer, prostate cancer, lung cancer, leukemia, lymphoma and brain cancer. We fund innovative scientific research to prevent, treat and ultimately cure all types of cancer.
Web Site www.cancerresearchfdn.org
Success Story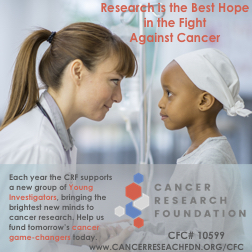 Sadie always felt her family was "unlucky"; it seemed as though every few years another grandparent or aunt would be diagnosed with cancer. However, it wasn't until Sadie met with Dr. Lucy Godley, an oncologist and cancer researcher funded by the Cancer Research Foundation, that Sadie was able to trace the genetic traits that make her family more susceptible to cancers, especially blood cancers.
Supported by the CRF, Dr. Godley's research in the genetics of blood cancers has led to the development of one of the most comprehensive sets of clinical tests for inherited mutations that predispose to blood cancers. She has worked with other physician-scientists throughout the world to show that familial cancer predisposition occurs more frequently than thought and this has real consequences for patients dealing with leukemia and their families.
Recognizing the importance of familial leukemias in clinical care, the World Health Organization has added a provisional category to its leukemia classification scheme for "germline predisposition", which means that all doctors dealing with leukemia should be looking for potential inherited DNA mutations that can be "passed-down" from generation to generation to create cancer predisposition. If such a mutation is identified in individuals within a family, they can be monitored and treated earlier.
For families like Sadie's, this means that genetic predispositions will be identified far earlier, giving then the tools and information to catch cancer sooner and be more successful in beating it. Funds raised by the Cancer Research Foundation supported this work and continue to fund research that makes a real differences in people's lives.