About
Dogs and people working together: saving abandoned animals; teaching at-risk children to train shelter dogs so both flourish; preparing shelter dogs for therapy activities.
Web Site www.animalsforadoption.org
Email arie@hvc.rr.com
Success Story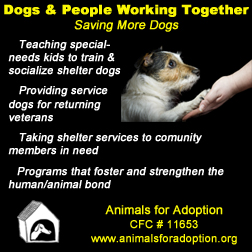 SHEP: Four years ago we wrote about Shep, a year old collie-shepherd mix, a recent "graduate" of our program at Green Chimneys school, where challenged children help train our shelter dogs with the skills for adoption, while the children acquire great self-esteem.
Shep was found alone, on a rural roadside, scared, rail-thin and starving. At our facility she was frantic in her kennel but very social with people, especially kids. At risk in a shelter, but perfect for being among children at Green Chimneys school.
Shep became a legend. Kids always ask about her after one of our staff adopted her. When she visits they scream "Shep", and run around playing with her. She loves all children, and we said she'd soon be a working Therapy Dog helping many needful children.
But we didn't quite get that right. For years, Shep's boundless energy prevented her from staying calm enough to pass a Therapy Dog test . We waited, and waited. And every time Shep met her student trainer he asked when was she going to take her Therapy Dog test. He was sure she'd pass. He always said "look I trained her good, didn't I?"
He really did, but it took a long time to bear fruit. Four years later, at five years old, the once frantic half-starved stray from a rural countryside, had calmed way down. She knew all the cues for years, and was finally ready to apply them. Shep recently passed her Therapy Dog test and is joining a group that visits with patients at a major cancer treatment center.
Contributions through the Combined Federal Campaign made Shep's story possible. With your help we can provide many more examples like this, of "People and Dogs working together".