About
Skin cancer, the world's most common cancer, is occurring at epidemic levels. It is also preventable, and usually curable when detected early. Help us save lives through our public education campaigns, community programs, and research initiatives.
Web Site www.skincancer.org
Email info@skincancer.org
Success Story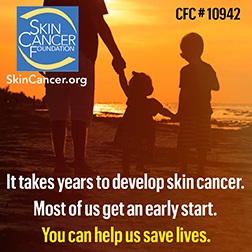 Your First Stop for Skin Cancer Education: Nearly 9 million people come to SkinCancer.org annually for the latest skin cancer information. Every day, our education materials are shipped to medical offices, health clinics, schools and community centers across the country. We take our responsibility as the leader in skin cancer patient education very seriously. We know that receiving a cancer diagnosis and navigating treatment options can be daunting. That's why we work closely with medical experts to break down confusing medical terminology so we can provide you with helpful and digestible information.

Programs That Meet Your Needs:
Through Destination Healthy Skin, the Foundation has provided more than 29,000 free skin cancer screenings. Hundreds of volunteer dermatologists have detected nearly 12,000 suspected skin cancers.
The Seal of Recommendation helps you find safe and effective sun protection that suit your needs. Hundreds of products have earned our Seal.

The Big See is our public service campaign that empowers you to take a proactive approach to skin cancer detection and check your skin for anything new, changing or unusual. Thanks to our commercial PSA, millions of people across the country have looked at their skin and asked themselves: "What's that?"

Supporting Research That Benefits You: With the help of our generous donors, the Foundation has funded more than $2 million in grants since the program began in 1981. Many early career investigators have used their grants to launch studies on the prevention, detection or treatment of skin cancer that ultimately led to significant treatment advancements for patients and physicians.