About
Ensure access to affordable sexual and reproductive health care; defend reproductive freedom, including abortion and contraception; and promote sex education and health equity.
Web Site www.plannedparenthood.org
Success Story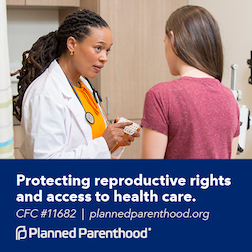 Personal story of a Planned Parenthood patient:
"It was 1983. We were living on $444 a month and had no phone because we were paying doctors - 10 of them - $5 a month. My husband had just completed two surgeries and radiation therapy for testicular cancer. We were told a child was unlikely. I had my annual Pap test at Planned Parenthood. It came back positive and they sent me a letter, which didn't reach me for some reason. They checked phone records, found my place of work and contacted me finally, two months after the Pap. They helped me find a doctor to do the necessary surgery and supported me throughout.
With their help and with my doctor's encouragement as well as constant monitoring of my condition, I gave birth to a normal baby girl in 1987. Without Planned Parenthood, we wouldn't have a beautiful young woman as a daughter and I may not be here. People can't live without Planned Parenthood."