About
Meals on Wheels' services are targeted toward elderly and disabled persons, focusing on those who are homebound, older in age, low income, isolated or frail. Meals on Wheels also acts as a resource for families caring for elderly and disabled loved ones.
Web Site www.mownct.org
Email info@mownct.org
Success Story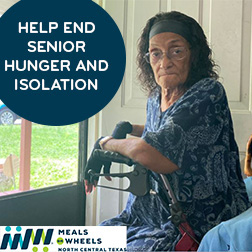 One night in May 2021, Carol had a scare she'll never forget. She'd gone to the bathroom … and found that she couldn't get up. "It was something awful," says Carol, 77. Frightened, she sat there all night until the next morning, when she knew a volunteer from Meals on Wheels would be coming. When the volunteer arrived, Carol yelled for help and, fortunately, the volunteer heard her. Carol's doors were locked, and the volunteer was unable to reach her by phone. So the volunteer called 9-1-1. An emergency crew arrived and found Carol dealing with severe abdominal pain. They took Carol to the hospital, where she stayed a short time. When she returned home, meal deliveries to Carol resumed, and life went on. Carol says she doesn't know what she would have done if the volunteer hadn't shown up that morning and heard her cries. Carol now keeps a phone in her bathroom … just in case. These types of situations sometimes happen with Meals on Wheels. A volunteer will show up with food, only to find that a senior is in distress or in need of immediate medical help. Sometimes those moments turn out to be literally lifesaving.
Carol is thankful for friends like you who support Meals on Wheels. Thank you!