About
Nutritious meat to feed hungry children, families, seniors, the poor. We pay butchering fees for deer and livestock donated by hunters and farmers. The meat is given to local food banks and ministries to feed the hungry. Food assistance for hunger relief.
Web Site www.feedingthehungry.org
Email staff@fhfh.org
Success Story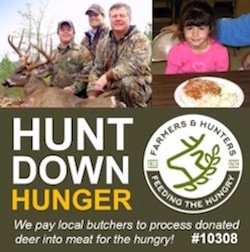 H.O.P.E. Ministries of Delmarva - We wanted to let you know how grateful we are for this organization and their partnership to help provide protein in the form of venison to ministries like ours.
Colorado Food Pantry - Today we served 161 Individuals and 69 families. The extra ground venison helped ensure that everyone got some meat!
Aaron's Place - We distributed maybe 12 to 15 boxes of venison before it was even fully placed in the pantry. It was like, one minute it was here and the next minute it was ALL gone. Once one person found out what we had, they told others, and it all went – mostly ground and some steaks. Thanks!
Bloomfield Food Pantry - Thank you, thank you for the donation of ground venison. Several people ask for deer meat when they come to the food pantry, and now we can offer it to them. You bless many families and the pantry.
Mohican Church of the Brethren - Our food pantry has been wonderfully blessed by your ministry, and so have the folks we serve. Many thanks to the organization and to those of you who have donated a deer or two.
Frederick Food Bank - We appreciate the FHFH program so much, and we couldn't serve all the families without your continued support over the years! We are also thankful for all the hunters who donate the deer for processing and for the local butchers that support the program!
Hickory Nut Gorge Outreach - Thanks again for your generosity in donating 103 pounds of ground venison. Our families will appreciate it very much!
The Caring Place - Someone recently donated 941 pounds of beef and told us that Farmers & Hunters Feeding the Hungry paid the meat processing bill. We wanted to let you know how grateful we are.