About
Combating animal cruelty, chronic diseases, and environmental devastation through the promotion of healthy, plant-based eating. Your support creates a kinder, more compassionate world for all.


Real Life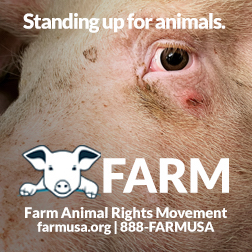 Dr. Alex Hershaft founded the
Vegetarian Information Service
in 1976, which became
FARM Animal Rights Movement
in 1981. A Holocaust survivor who lost most of his family, he resolved to dedicate his life to pursuing justice and compassion, particularly for the most oppressed beings.
Farmed animals make up
98%
of abused animals, and FARM is dedicated to stopping the exploitation and slaughter. This mission has involved personal sacrifice, particularly on Alex's part, but is worthwhile because just one new vegetarian or vegan saves thousands of animals' lives in a lifetime.
FARM's global impact is far out of proportion to its size due to the grassroots grants program. The
Sabina Fund
honors the memory of Alex's late mother. Sabina Fund provides seed money to groups (mostly in the developing world) promoting plant-based diets and respect for animals.
FARM's most well-known campaign is the
World Day For Farmed Animals
. On October 2nd, activists urge caring people everywhere to "fast against slaughter" for 24 hours and participate in events. FARM encourages people to explore a healthy diet of fruits, vegetables, and whole grains after they have completed the fast. World Day for Farmed Animals events occur all across the globe.
Join us in protecting our planet for all beings!
Please call, email or visit our web site for more information. We are happy to share more stories of our impact with you.