About
Combating animal cruelty, chronic diseases, and environmental devastation through the promotion of healthy plant-based eating. Your support creates a kinder, more compassionate world for all.
Web Site www.farmusa.org
Email membership@farmusa.org
Success Story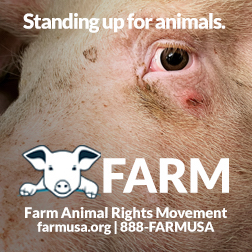 In 1976, the Vegetarian Information Service was founded and later became FARM Animal Rights Movement (FARM). Farmed animals make up 98% of abused animals, and FARM is dedicated to stopping their exploitation and slaughter. FARM's mission is worthwhile as just one new vegan, or vegetarian, saves thousands of animals' lives in a lifetime.
FARM's most well-known campaign, World Day For Farmed Animals (WDFA), is obvserved each October 2nd. Activists around the world urge people everywhere to "fast against slaughter" for 24 hours and participate in, and host, vegan events. FARM encourages people to explore a healthy diet of fruits, vegetables, and whole grains after they have completed the fast. World Day for Farmed Animals events occur all across the globe.
In addition to WDFA, FARM encourages a vegan diet during the holidays through its Compassionate Holidays program, makes educational videos accessible through VeganVideos.org, advocates switching to non-dairy foods through DitchDairy.com, ties together plant-based living with the environment with greenyourplate.org, and reaches millions in the United States and Canada through its EdLetters program.

Join us in protecting our planet for all beings!

Please call, email or visit our web site for more information.