About
Improving quality of life for people with developmental disabilities in our community by providing lifetime of compassionate support in an atmosphere of respect, inspiration, purpose.
Web Site www.lifehouseagency.org
Email mail@lifehouseagency.org
Success Story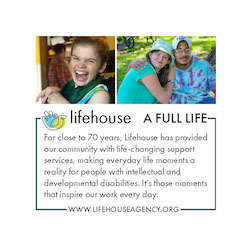 Lifehouse Parent Testimonial showing how Lifehouse has been successful:
"One of the things that parents of children with special needs think about quite a bit is we wonder what's going to happen to our kids when we are not around. We try not to think about it but it's something we have to put some thought to. Who is going to love him like we love him, who is going to take care of him the way we take care of him. Will he find someone to love and develop a relationship with? What will his growth and development look like?
Lifehouse provided an environment for my son, for all these things I don't have to worry about. My son now has a community where he can grow and develop. His growth, his development, his social networking, has been incredible; my discovery of things that I wasn't sure he could do. It couldn't be any better. The name Lifehouse is really important. It's a House of Life. And it's the one place that I think I couldn't make any better than if I'd sat down and written up what is needed in a manual. Lifehouse checks off all of the boxes."