About
1 in 4 children in America lives with a parent who drinks too much or misuses drugs. Most suffer in fear and silence believing it's their fault. Help us protect and save these helpless victims of addiction from physical and psychological abuse.
Web Site www.nacoa.org
Email nacoa@nacoa.org
Success Story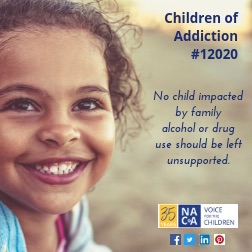 Chris said: "Mom says Dad is drinking again. Dad says he isn't. ... I am confused. I'll just try hard to figure it out."
A clear understanding of addiction's impact on the physical, emotional, and spiritual well-being of children and families is necessary for all who work with children. NACoA's responsibility is to support the one in four children whose lives are affected by alcoholism or other drug use in our country. These children are trapped by the disease that is impairing their parents and they can't help themselves, but we can. We produce training materials, supportive free materials, a toll-free resource line, and a web site providing needed information and tools for both adults and children, and those who can help them.
"I have a powerful conviction that no child should have to struggle helplessly in the confusion, fear and trauma that too frequently come with alcoholism in the family. It is my goal... to help those children who need to seek refuge from the storms that alcoholism dumps on the family unit. If I can help just a few children realize that it is not their fault that their parents are addicted to alcohol ... We know how to break the cycle early and support and nurture these special creatures to become healthy, whole, and productive individuals. I run* to bring attention to these children who suffer in silence and to raise money to help break the cycle for the millions of still-hurting children who deserve better." Dianna S.
* TEAM NACoA's Run for the Children® marathons.