About
We protect childhood by providing a family environment for children through direct care, strengthening families, building up communities, and advocating for children's rights in Guatemala, India, Moldova, South Africa, and Sri Lanka.
Web Site www.ceri.org
Email info@ceri.org
Success Story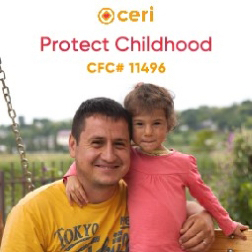 Olga was abandoned by her parents at the hospital on the day she was born. Shortly after, she was adopted. Her adoptive parents drank every day and could hardly take care of themselves. The strongest memories Olga has to this day are of them drunk and she being cold and hungry. Eventually, the authorities took her away and placed her in an orphanage.
When Olga lived at the orphanage, she learned about how CERI helped children. She was soon matched with a sponsor in America and started participating in activities such as life skills trainings, counseling and volunteering.
Through her sponsor's support, she moved into an apartment where she felt safe. When she was sick, her CERI case manager took her to the doctor. Her sponsor wrote her letters and her CERI mentor supported her emotionally. Olga went to college and was ready to face life as an adult because she found the love and affection all children need from a family.
Your donation will ensure more children receive the love of a family and the support they need to succeed in life.