About
Supporting the Catholic Church's dedication to defending sacred human life from the moment of conception. Providing youth conferences, defense of religious liberties, and right-to-life education.
Web Site www.catholicsunitedforlife.org
Email djmusk@earthlink.net
Success Story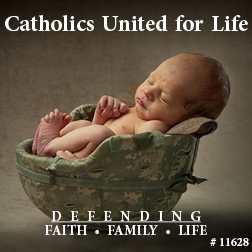 There are so many little things that come with being pro-life, and it is in the conversion of hearts that we will be able to find peace in our world. The pro-life movement is a common ground for faiths, and it's often the place where terrible misconceptions are corrected. For many, the first step towards conversion happens in the pro-life movement.
Pro-lifers are often accused of caring only about abortion. The truth is that we encounter the homeless and addicted regularly. As pro-lifers, we buy the homeless coffee in the winter so they can sit somewhere warm, and we keep clothes in the trunk of our cars so they can have a fresh shirt or warm sweatpants.
And these people know you are there and come by regularly, even just for conversation. One man is a year-and-a-half sober and his connections and discussions on the street helped him get that way and stay that way. Another homeless man encountered an abortion-minded woman when no one was there: "I said everything you guys say, and she decided against the abortion." He died not much later, but his funeral wasn't like most homeless; he had all his "street" friends there for him.
And then there is the car that drove up right in front of the door. She motioned for a pro-lifer to approach her car. "I drove by here 18 years ago. I had an abusive boyfriend, but I saw you, and it gave me the courage to leave and have the baby. It was a girl. She was adopted out, and I get to see her in a few months when she turns 18."
Being pro-life is a way of life, and Catholics United for Life supports every aspect of the joy of life.