About
Helping abused and neglected children heal and thrive; training advocates for children; supporting caregivers through foster and kinship programs; a powerful voice for vulnerable children.
Web Site www.kidsmatterinc.org
Email adam@kidsmatterinc.org
Success Story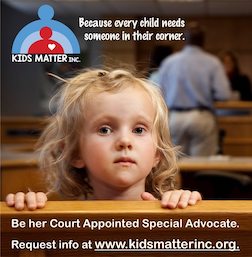 When we first met Alana, she was in foster care due to being sexually abused by her mother's boyfriend. She was afraid, hurt and angry. The child protective system believed her, the criminal justice system believed her, but her own mother did not believe her.
"It was so hard for me to understand as a kid. The world seemed upside down. No one wants to go into a group home at age 12. It felt like I was being punished for being abused – I hadn't done anything wrong."
"I really wanted my Mom to stand up for me. I am so grateful for Jan, my KIDS MATTER volunteer advocate, who did stand up for me. I just can't imagine going through what I went through alone. No child should face that."
As an adult, Alana now turns that childhood hurt and anger into a passion for preventing child sexual abuse and helping adults respond responsibly when children disclose sexual abuse.
KIDS MATTER helps thousands of kids every year. Over 25% of the kids we help have been sexually abused. We are motivated to stop all child sexual abuse.
With Alana and her peers leading the way, KIDS MATTER staff and volunteers are now nationally certified child sexual abuse prevention trainers. "Every child needs someone in their corner."
Your support makes this possible for more children like Alana. Thank you.