About
Help Christians worldwide who are persecuted for their faith in Jesus Christ. Christians from Afghanistan, Burma, Bangladesh, Sri Lanka, Egypt, Nigeria,Korea, Pakistan. We deliver food, medicine, education, Bibles,jobs, shelter; we report acts of atrocity.
Web Site www.ChristianFreedom.org
Success Story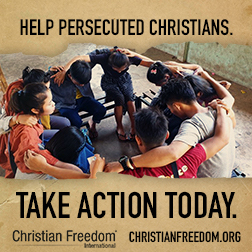 "My Name is Winner Lynn. I was born in a small Village in Burma. I grew up in a small rice farm by the river bank in the country that no one will want to live. Christian who lived in Burma was persecuted because of their faith. When I was six years old, my village was attacked by the Burmese military. Houses were burned, and many innocent people lost their lives. My father was one of those people. He was tortured before he was murdered, and my family was forced to flee into the jungles of Burma. Life in jungle was really awful. There is no treatment for the sickness, and there's no school for us to go to.
A year later we moved to a refugee camp in Thailand. I was able to stay at the CFI Freedom House. God was faithful to his promises to me. He knows the plan he has for me, a plan for good and not for disaster, to give me hope and a future.
In June 3 2007 God lead me out of Thailand refugee camp and my family got in US in the 4th of June 2007. With all the help with CFI, I moved in Sault ste. Marie (MI) in July 11. The first few months of school were really hard. Everything is new for me; People, Language, Place. I pushed and tried really hard so that I can go to college someday.
In August 2010 I completed all my high school courses. One thing I learned was that Life is a challenge; you just have to fight it and push hard. My dream for the next step is College."
Winner Lynn completed his first year at Pensacola Christian College in the May 2012. He attended the University of Michigan to complete his degree. Winner Lynn's story has been presented in exhibit in the Atlanta Center for Civil and Human Rights.
He, his wife, and family now own their own home in Michigan.