About
We assist community-led groups worldwide to create lasting solutions to chronic poverty by helping them identify issues and work together to achieve positive, sustainable outcomes, including access to safe water, nutrition, income, health and education.
Web Site www.outreach-international.org
Success Story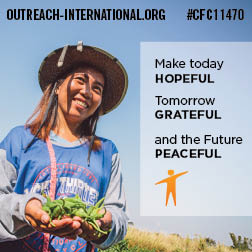 In 2018, Zambian farmer Oliver and his wife were raising their five children in a two-room, grass-thatched house. They rented a 15 by 10-meter plot of land to grow crops, but much of the yield often died because of lack of water.
Oliver had to water his crops by hand, carrying a bucket to and from a nearby stream. The process was slow-going and never-ending. Because his family relied on these crops for food and income, Oliver and his wife made the difficult decision to keep their children home from school to work the farm. Even then, the sale of vegetables only earned them about $5 per week.
In September of 2018, Oliver joined a group of 30 farmers from his community, founded with the help of a Human Development Facilitator (HDF) supported by Outreach International. Under the HDF's guidance, the farmers identified their issue of poor crop yield due to insufficient irrigation and explored possible solutions. Their proposal to Outreach helped them secure 10 treadle pumps in 2019 to irrigate their crops.
With the pumps, they were immediately able to water much larger crop areas, even during the dry season. This increased their yield massively and improved their access to food and income.
Now, Oliver is growing three times more food than before. The income has allowed him to purchase his own 50 by 50-meter plot of land, build a sturdy, six-room home, and send his children back to school.
Oliver shared, "This project has brought joy to me and my family. We now have three meals a day and live in a decent house. Thank you!"
Our friend Oliver and his neighbors are just one shining example of how your support of Outreach International changes lives for the better worldwide.