About
Catholic Relief Services is an international relief and development agency. We assist the poor and vulnerable overseas by fostering charity and justice as we respond to major emergencies, fight disease and poverty and nurture peaceful and just societies.
Web Site www.crs.org
Email eunice.kagwimi@crs.org
Success Story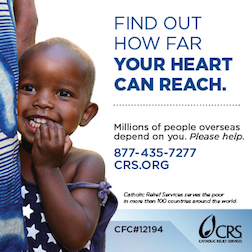 Senowara was 8 months pregnant when she fled the conflict in Myanmar in 2017. She spent days traveling to escape and exhausted, finally crossed a river into Bangladesh on a small boat where she gave birth to a healthy baby boy named Korban.

Senowara, like many other Rohingya refugees, arrived in Bangladesh with nothing. Yet she carries strength, character and resilience.
Today, Korban sleeps peacefully in a makeshift hammock in their transitional shelter in a refugee settlement in Bangladesh. His three siblings are cared for in child-friendly spaces and Senowara receives food and living support for her family.
Now, refugees with so little—who have lost so much—are getting the support they so desperately need. They have a chance for a future.
This is just one real life story of the work that your donations go towards creating a better world.
When you give, you provide lunch for students so they can study hard in school. You help prevent trafficking and provide welcome kits for survivors. You help mothers around the world receive nutritional care and health exams. Farmers learn innovative ways to plant and grow crops despite drought or disease. And women find dignity in opportunities for savings and training.
When you give, you change lives, families and communities. To learn more about our programs, visit our website at www.crs.org.
For more than 75 years, CRS has been providing expertise and compassion to the most vulnerable. As the official international agency of the Catholic Church in the United States, we work with the local Church, partners and YOU in more than 100 countries.