About
Changing the hearts and lives of English and Spanish speaking prison inmates nationwide through Bibles, audios, videos, Christian role model books, prayer, and counseling. Prison ministry brings the love, hope, and salvation of Jesus Christ our Lord.
Web Site www.prisonministry.org
Email bbfi@prisonministry.org
Success Story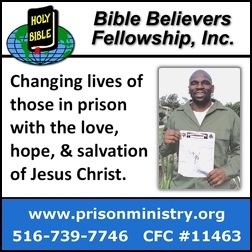 Since 1993, we have distributed 18,013 Bibles, 10,849 New Testaments, 7,905 Gospels of John, 383,572 Bible booklets, 30,184 Christian books, 403 Counseling Sets, 1,352 Videos/Audios, 647,709 leaflets/other material to jails, prisons, and youth facilities throughout the United States. About 25% of these amounts are in Spanish.
TESTIMONIALS

"Thru Bible Believers Fellowship's abundant generosity of inspirational booklets, pamphlets and newsletters, it has had a definite positive impact on the inmate population."
Chaplain Lindsey, Donaldson Corr. Facility (Bessemer, AL)

"Everything BBFI donates to us is another tool to share the Gospel and to help us reach the lost and edify the Body of Christ."
Chaplain Jardim, SE Corr. Ctr. (Bridgewater, MA)

"Bible Believers Fellowship has been there to supply any request for ministry tools, whether tracts, books, videos. Any church, organization, or individual will be blessed by the Lord greatly if you support this ministry."
Chaplain Watkins, Huttonsville Corr. Ctr. (Huttonsville, WV)

"Through BBFI, I've built a foundation, a sense of unhappiness with my past criminal behavior and thinking, and replacing them with a sense of responsibility and development of empathy for others. I am learning to think in ways that are rational, realistic, and responsible. Most of all, I found Jesus."
Inmate Michael Sellers, Federal Corr. Inst. (Lompoc, CA)

"Thanks to BBFI, we are able to provide these men with the material needed to build a strong spiritual foundation before entering society. Please consider making a donation to this ministry that helps those who are in need."
Chaplain De Long, Hamilton Correctional Institution Annex (Jasper, FL)