About
America's youth want to do something important with their lives. As our national parks fall into disrepair, we're inspiring youth to find their calling, as the next generation of conservation leaders with hands on service to our parks and public lands.
Web Site www.thesca.org
Success Story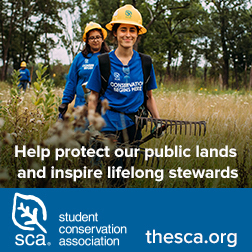 The Career Discovery Internship Program (CDIP), a joint initiative of SCA and the U.S. Fish and Wildlife Service, provides a professional pathway for hundreds of college freshmen and sophomores from diverse ethnic and racial backgrounds.
In 2021, Andres Rosales, a 20-year-old from San Antonio, was banding puffins along the Maine coast in the Summer issue of The GreenWay. Elsewhere, we placed an hydrology intern at Great Dismal Swamp in Virginia, a sagebrush restoration specialist at Red Rocks Lakes National Wildlife Refuge in Montana, and a biology intern at John Heinz National Wildlife Refuge at Tinicum, among many other program participants.
Launched in 2006 to expand outdoor opportunities for young people of color and to forge a more inclusive Fish and Wildlife Service workforce, the CDIP initiative soon earned a Diversity Award from The Wildlife Society. The program empowers participants by exposing them to a wide range of meaningful assignments and responsibilities. Interns quickly develop new skill sets and perspectives while being mentored by agency professionals, and complete their experiences by producing reflective capstone projects in the form of videos, blogs, or journals. Best of all, they emerge qualified and motivated for entry level conservation roles.
"SCA impacted my career by uncovering potential I didn't know I had!" exclaims CDIP alumna Brianna Patrick, who is now a visitor services specialist at Neal Smith National Wildlife Refuge in Iowa. "Being plucked out of the city and placed out in the middle of a marsh everyday was a pretty shocking, but it introduced me to a career with the Service. SCA definitely opened the door for me!"