About
Founded by Gary White and Matt Damon, Water.org is working to end the global water crisis by helping people living in poverty get access to affordable loans for water and sanitation solutions at home – unlocking education, income and improved health.
Web Site water.org
Email info@water.org
Success Story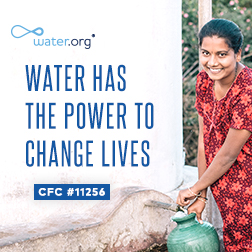 A couple of hours south of Bhubaneswar in India is the village that Rehana and her family call home. While her husband worked and her younger children went to school, Rehana walked up to six hours a day with her daughter, Sumalila, to get water for cooking, laundry, and baths. She retrieved the water from a water pump managed by the government.
As with many municipally managed water sources, the water was available infrequently. Running some days, shut off others. So, on the days it was unavailable, Rehana purchased water from a vendor. In either case, Rehana paid high prices for water in time and money.
For these reasons, households like Rehana's find the small loans offered by Water.org's partners in India to be affordable, practical solutions to their family's water and sanitation needs. Through her local microfinance bank, Rehana took out a loan amounting to 10,000INR which is about $145USD to pay for the construction of a water connection on her property.
Less than two years later, her loan was paid off. Her family continues to enjoy access to water at home. On their way through productive days, Rehana and her children can fill vessels of water just a few feet from their door, rather than miles from home.
Rehana shared, "When my husband went to work, Sumalila and I walked together to collect the water. It hurt my back and often made her late to school. I am quite happy we do not do this anymore."
With your support, we can empower more moms like Rehana with the financial solution needed to remove the obstacle standing between their families and a healthy, hopeful life.