About
Public lands should remain a legacy for future generations to enjoy. Help us fight to keep America's Public Lands in public hands by preventing unstable, unsound timber cutting, livestock grazing and mineral & oil production. This land is your land!
Web Site www.publicland.org
Email info@publicland.org
Success Story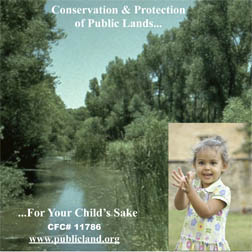 Last year's donations supported 28 National Public Lands Day projects, a national event that shows appreciation for the public lands; scholarships to two college students earning degrees in public land management or related fields; the distribution 1,000 copies of "America's Public Lands: origin, history, future," a brochure that defines and clarifies the status of federal public lands in America; and helped advocate in various forums to keep public lands in public hands for use by all Americans and for future generations.Your donation will help improve public lands for your children's sake and for generations to come.