About
Animal welfare organization working to end abuse of all animals. Help us protect canines from puppy mills, animal fighting, & hoarders. Save animals from lab testing. Stop cow, pig & chicken factory farming abuses, horse slaughter, & wildlife threats.
Web Site http://www.humanesociety.org
Success Story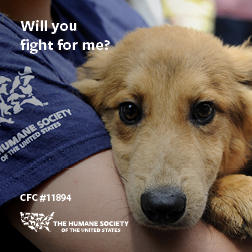 Hurricane Maria devastated Puerto Rico in 2017 and yet demonstrations of the power of the human bond with animals was continuously shown. Humane Society teams visited small villages without many services bringing dog and cat food and setting up makeshift clinics as needed. When they arrived people came out of their flooded houses to show off their animals and pick up food. They want to provide nourishment to the animals as badly as they want food for themselves. Despite people having lost so much, they are still deeply concerned about their animals and grateful that assistance is available for them.
One woman chased after the Humane Society truck, while juggling four Chihuahuas in her arms. Ten-year-old Jayshwua heard about our clinic and rushed his dog to receive care, waiting patiently in line for his turn. "My dog is sick and I didn't know how to help," he said. "It's hot and a long line, but I'm happy I waited for my turn." We transported more than 1,200 animals from shelters in Puerto Rico, who have been routed to more than 50 animal rescue organizations in the United States.
In addition to providing humanitarian care and rescuing animals, the Humane Society has launched an ambitious initiative to spay and neuter 20,000 cats and dogs at no cost to pet owners. The first stage of Spayathon for Puerto Rico was an amazing success. Trained volunteers and staff members worked to spay and neuter over 5,600 dogs and cats, providing them with vaccines, food, collars and leashes. Your gift will help us continue the humanitarian efforts of providing hands-on care and services to more than 100,000 animals each year as the nation's most effective animal protection organization.