About
Upholding Theodore Roosevelt's vision, we're protecting our nation's most valuable resource - its wildlife. We promote fair-chase in hunting, outdoor ethics and conservation while training youth to become tomorrow's conservation leaders.
Web Site www.boone-crockett.org
Success Story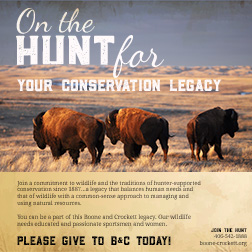 Since its founding in 1887 by Theodore Roosevelt, the Boone and Crockett Club's history has exemplified leadership...that of developing, enhancing, and promoting America's wildlife conservation movement. Over the past 135 years, Club members have helped to set aside more land, created more conservation organizations, and initiated more legislation and programs for the benefit of wildlife than any other institution.

--Past Club member accomplishments include: the protection of Yellowstone, Glacier, and Denali National Parks; the foundation of the National Forest Service, National Park Service, and National Wildlife Refuge System; the passing of the Pittman-Robertson and Lacey Acts, and the establishment of the Federal Duck Stamp Program. Today, the Club continues its commitment to hunters, conservation, and our natural wildlife resources by:

--Influencing conservation policy by promoting wise and responsible management of wildlife and natural resources backed by science;

--Developing the next generation of conservation leaders through our endowed professorships, the Conservation Leadership Institute and Conservation Grants for young professionals;

--Training tomorrow's conservation leaders through excellence in conservation education, field programs, teacher training, and professional enhancement; and

--Continuing a century-long commitment of strengthening the hunter's role in conservation through leadership in hunting ethics.