About
Rescue, Nurture, Adopt & Educate - Animal League America has saved the lives of over 1.1 million abused, neglected & defenseless dogs, cats, puppies & kittens through humane education, pioneering the no-kill movement, pet adoption & respect for animals.
Web Site animalleague.org
Success Story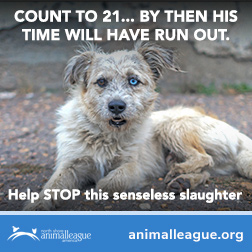 At Animal League America our goal is a no-kill world where all homeless pets find loving homes. Meet Cinderella, Brooklyn, and Emory, three neglected and abandoned mama dogs, rescued with their pups earlier this year and brought to North Shore Animal League America.
Emory and her babies were victims of the violent culture of dog fighting. Due to the scars on her muzzle, the shelter staff believed that Emory may have been a bait dog used to encourage other dogs to fight as well as a breeder. Emory was adopted by a couple who renamed her, Ellery Queen, after the mystery writer and because she's also a queen.
Cinderella's story is equally as tragic. Cinderella was found in a fenced yard with no food or water with her puppies in a crate on the porch. She traveled with her two surviving pups to Animal League America and found a home. "Cinderella has been such a blessing to our family. She is the sweetest, most loving dog and deserves the very best," enthused Oscar. Cinderella now enjoys spending time with her best friends: King, her dog sibling, and her human brother, Carlo.
Brooklyn, the smallest of the mamas, was found wandering on the side of a road with her two puppies and ended up in an Alabama shelter. They were rescued and put onto the rescue transport to Animal League America. Dayna Burnett and Brooklyn found each other in the Adoption Center. "My beloved Brooklyn is so sweet and she keeps me happy," said Dayna.
All three of these dogs needed extra care from our veterinarians in our Pet Health Centers as they recovered from the effects of such extreme neglect. Thanks to our supporters and adopters, the future for these three girls is looking so much brighter.