About
Sexual Assault, Domestic Violence, Child Abuse, Elder Abuse, Human Trafficking and Trauma: Problems affecting us all. Take action to help us reduce violence and abuse affecting infants to elders, and to make our communities safe and healthy.
Web Site www.ivatcenters.org
Email sandicm@ivatcenters.org
Success Story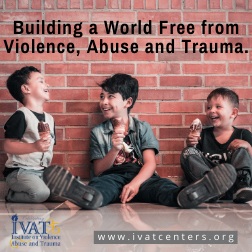 IVAT Real Life Story: Networking for a Better Future
"A Samoan Kiwi man from Otara walks into a hotel in San Diego in 2017 in preparation for a presentation at the IVAT International Summit on Violence, Abuse and Trauma Across the Lifespan. He meets a Jewish lady, a doctor and the founder of Stop the Silence, an NGO from Washington D.C. They compare notes and decide to tag team, exchanging details. A year later they launch a child sexual abuse prevention training in NZ, run by a South Auckland NGO managed by men, run out of a real estate location, and sponsored in collaboration with funding from America, members of the public, and local businesses, with absolutely no government funding,
That is community partnership & ownership."
Trust MYRIVR posted these words after their second free training on child sexual abuse prevention in New Zealand, a country where 1 in 3 girls and 1 in 5 boys were found to have been abused before the age of 15. According to Co-Founder and CEO Akerei Maresala-Thomson, "The funding for this project in NZ was made possible through the networks I made during my first IVAT Summit in San Diego in 2017."
This story illustrates the power of the work being done by the Institute on Violence, Abuse and Trauma. IVAT believes that the roots of trauma are interconnected and varied, and so the solutions must also be interconnected and varied. Their International Summits are spaces for professionals, survivors, and advocates from all disciplines to gather and, together, create solutions to end violence.