About
Transforming young lives in Nepal: scholarships & vocational training for youth overcoming hardship; pioneering nutritional intervention & education; safe, loving homes for children experiencing housing insecurity; caste justice; women's empowerment.
Web Site www.nepalyouthfoundation.org
Success Story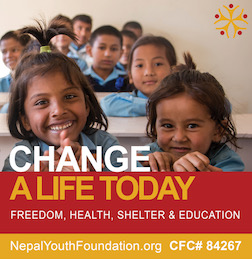 "Priya" was among the brightest in her school, but after her father abandoned the family, Priya, her mother, and infant brother became outcasts in their village. The children were barred from the local school, hungry, and frequently ill.

As one of Nepal's largest nongovernmental providers of scholarships, NYF has given thousands of disadvantaged Nepali children a life-changing education. From kindergarten to college (and even medical school!), priority is given to the most marginalized – including girls, disabled, and low-caste students.

In Nepal, where less than 40% of youth make it past the 10th grade – our graduates are successful teachers, doctors, social workers, lawyers, parents, and so much more.

With Nepal Youth Foundation scholarships, Priya and her brother are now healthy and building a brighter future by going to school. Priya, who consistently scores the highest marks in her class, also loves to read books and dance.

Dollars go far in Nepal. Your gift in any amount brings hope and opportunity for a brighter future!