About
Providing scholarships & grants to veterans who've served honorably in the U.S. military & wish to transition their skills into transportation technician jobs at home. Awards help struggling veterans bridge the gap between the start of school & benefits.
Web Site www.techforce.org
Email info@techforce.org
Success Story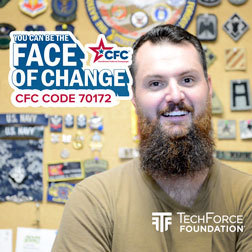 MARINE PURSUES DREAM CAREER

Veterans at Work: Military Transition Fund helps student attend NASCAR Tech

Kyle is a United States Marine Corps veteran who lives in an area with very few job opportunities, so he tried taking the traditional route by going to college. He quickly realized, however, a traditional college experience was not for him.

Kyle has always loved NASCAR and wants to turn it into a career. "Growing up watching the NASCAR races and going to them, I was in awe of the pit crews and the technology that comes with racing. I always had it in the back of my head: I would love to do that," said Kyle.

Kyle decided to make a change and go to NASCAR Tech. "I am pursuing NASCAR Tech because it has been a dream since I was a child, and I need to secure the career of my dreams. I am committed to pursuing this just as I was committed to serve my country." NASCAR Tech will give Kyle the tools he needs to be successful in the automotive industry.

Kyle's dream is to one day work for Stewart- Hass racing, and to be a key component of their success. Starting this new journey is going to be a lot of hard work, but hard work is not something that will stop Kyle. "It's going to be hard getting through school financially, but I have the drive to do it. I am passionate about everything I do, whether it is working out, learning new things, hunting, fishing or taking care of my family," said Kyle.

Kyle started the next chapter of his life this past April at NASCAR Tech and has also started a new job. Kyle is determined to be successful, not only for himself but for his 7 year old daughter.