About
We support hospitals, clinics, nursing homes and orphanages by providing medicines, medical supplies and equipment, nutritional supplements, school supplies and other staples needed for poor and malnourished children, orphans and families in El Salvador.
Web Site www.sahf.org
Email contact@sahf.org
Success Story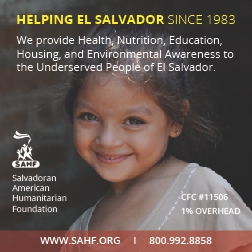 In April 2021, Jefferson was born weighing 3.9 pounds. His diagnosis was difficult: severe malnutrition, really short stature, and abnormally weak. With this diagnosis, Jefferson joined our in-country sister foundation's Early Childhood Program, where his mother received nutritional counseling for both herself and her baby and weight and height control.
With the support of our generous donors, Jefferson's mother has consumed rice with high nutritional content. Jefferson's mother has improved her nutrition and the quality of her breast milk with which she feeds and nurtures Jefferson. By receiving healthy breast milk, the baby boy has managed to gain weight, currently weighing 12.5 pounds. He has a suitable size for eight months as of December 1st.
Jefferson is a very happy boy and we hope he continues to develop and grow not only with the help of his family but with the help of our program that will be there to help him as he continues to develop. Jefferson is now one year old and doing well.
The Early Childhood Program was designed to address malnutrition in children under five years old who live in El Salvador's rural areas. It services 5 departments or states, and 293 communities. The program has been successful over the years in helping reduce malnutrition in communities like Apaneca from 47% to 11%.
As this program continues to grow into communities and departments, the number of people we reach and teach about good nutritional values grows exponentially. With the help of our donors like you and our sister foundation FUSAL, we have been able to help countless others, increasing their rate of survival and helping them work towards a better life.