About
We're replacing cancer myths with cancer facts and working towards a world where no one develops preventable cancer. We fund innovative research and education to expand understanding of nutrition, weight management, physical activity and cancer.
Web Site www.aicr.org
Email aicrweb@aicr.org
Success Story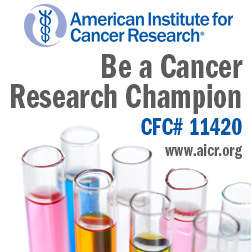 Real Life: Lisa Hecht
Three weeks after my breast cancer radiation treatments ended in 2009, my ex-husband was hit by a bus while riding his bike and died. We have two daughters together, and losing him really brought home to me just how important my health was: I was now the sole parent. I was the only one my daughters had left. And I was committed to getting healthy and making sure I would be here for them for a long time.
Good information is the most valuable resource to a person who's facing cancer, and AICR provided me with clear, practical, and trustworthy recommendations for how to reduce my cancer risk. The AICR lifestyle recommendations are scientifically based. It's untainted research, and it's presented in a way I can apply to my everyday life.
Which is exactly what I did, starting with physical fitness. I began exercising at least 30 minutes a day. First I started to walk the hills near my home. Then I was running. Then I committed to running a 5K each month. By the fourth year after my surgery, I had run two half-marathons. I have followed AICR's nutrition recommendations for years to improve my family's health. I wanted my daughters to eat better, so I started a garden in our backyard, which grew to over a thousand square feet.
Today, I've lost twenty pounds, I've been cancer-free nearly six years, and I've never felt better. For me, following AICR's recommendations wasn't just a path to healthier living; it was and continues to be a path to better living. While there are no guarantees for any of us, I now feel confident that I'll be here to watch my daughters pursue their dreams as healthy, beautiful women. I have AICR to thank for that.