About
Serving in faith, transforming through love! We connect Christian volunteers with opportunities to serve the poor and make a difference in communities across the globe. Volunteers live simply, work for social justice, and put their faith into action.
Web Site www.catholicvolunteernetwork.org
Success Story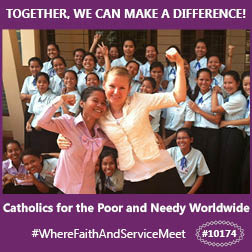 I have begun to see my volunteer work with the at-risk youth of Chicago as a way to extend hope into the lives of young people.

I was powerfully taught this lesson in a humbling conversation with a youth one evening. This young man is at our Home because of an abusive father and a terminally ill mother. As we ate dinner in the cafeteria, I had asked him how his day was going. He replied that he was having a great day so far. And, he continued, I realized that I found something that I've been looking for a long time. Curious, I inquired as to what he had found, expecting a response focused on video games, lost homework, his favorite book, or some similar concern of an average 13-year-old boy.

His answer left me speechless. No, he said matter-of-factly. I've finally found a father figure in my life - and it's you. You're like a dad to me.

I was stunned and humbled. And that instant crystallized what is so important about sharing ourselves with others.

Through my volunteer experience, I am blessed to be a witness to this miracle of hope on a daily basis. Although we certainly have our share of difficult and seemingly hopeless days in program, I am still privileged to hold the candle that is a light for this young man amidst his troubling circumstances.